Moulana Mohd Ali Mosque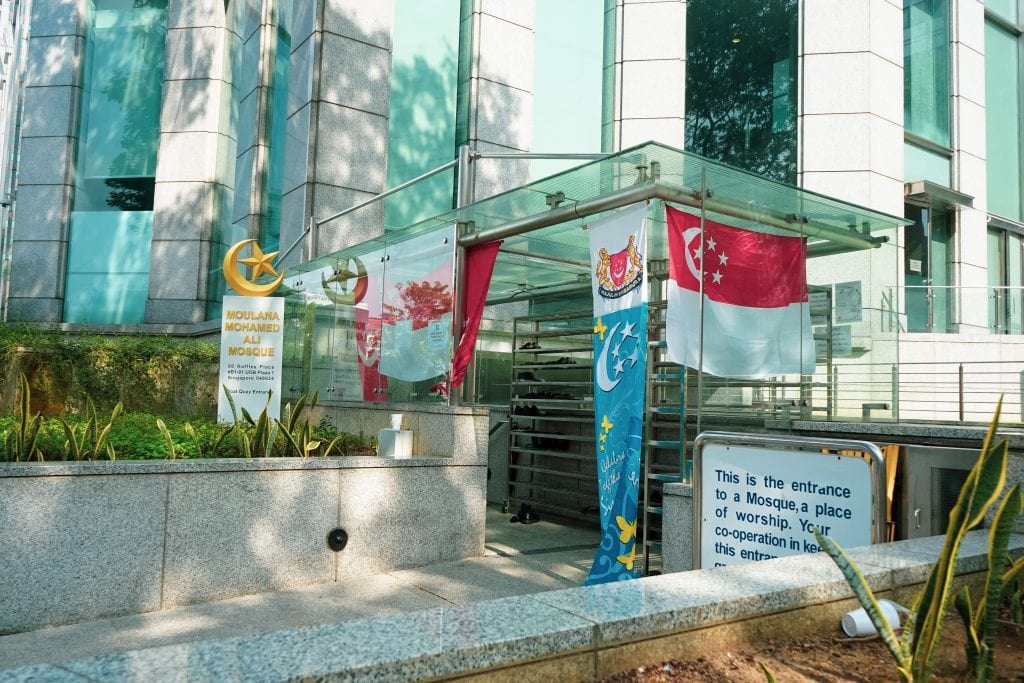 The mosque had its origins at 16 and 18 Market Street, a pair of double-storey shophouses comprising an area of 1,660 sq. ft. These were purchased in 1953 and 1955 by three far-sighted gentlemen, Mohamed Javad Namazie, Haji Mohamed Khan and M. M. Abdul Wahab. The three of them understood the need to have a place of worship in the central business district (CBD). In the late 1970s, the CBD was expanding rapidly – roads were being widened and new modern skyscrapers were being built where shophouses once stood. The then trustees of the mosque were faced with the reality of a probable road widening of Market Street which would see the mosque property being acquired.
Against this backdrop, United Overseas Bank (UOB) had a massive development plan but could not proceed because the mosque was right in the middle of that plan. UOB had bought several properties around the mosque for the intended development. Negotiations then took place with UOB who tried to find a suitable alternative site for the mosque in the heart of the business district without success as locality, orientation and government approvals were essential. UOB had offered the third level basement. This is a unique feature of the mosque as there were hardly any mosque below ground level in Singapore then.  The mosque activists later managed to negotiate for the first level basement. Meantime, while UOB Plaza was being constructed, the mosque operated from Nagore Dargah (now the Indian Muslim Heritage Centre) at Telok Ayer Street.
When the site was completed, it was handed over to the Mosque Management Board (MMB) in 1992. The mosque was then officially opened in 1996. Activities are confined to daily and Friday prayers and religious lectures on an ad-hoc basis.